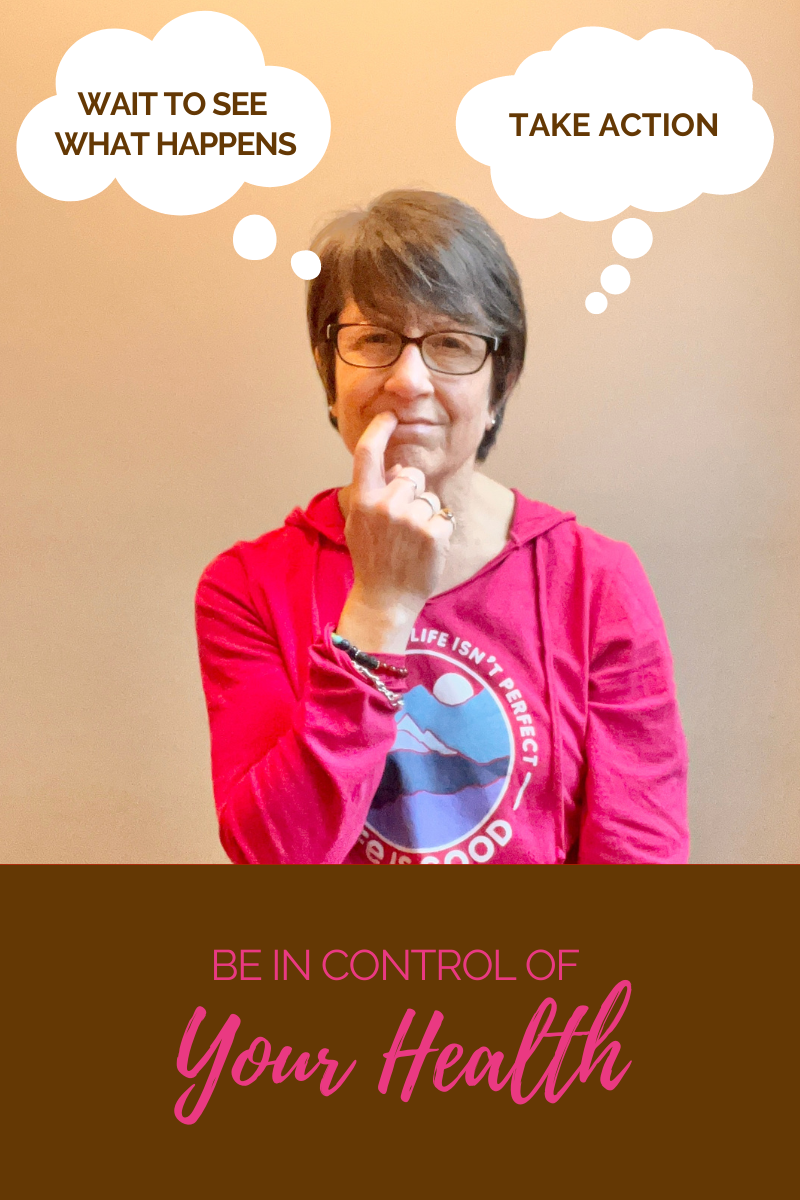 "Everything worthwhile is uphill."
― John Maxwell
Why would you want to wait until you have breast cancer, or other serious illness, to finally think about your health?
If you have poor habits they will eventually catch up with you. Make daily decisions that will help your future self. Practice active versus passive health.
How is your current lifestyle affecting your health? Take a good look at your habits and daily behaviors. Choose to modify bad ones now before you're faced with a health crisis, like breast cancer.
There is so much you can do to prevent illness and dis-ease if you're willing.
You have the ability to promote good health if you're willing to do the work. What are you willing to do to feel good? To be healthy? You must take responsibility for your own health. What if you could prevent getting breast cancer or other major illness? Would you be willing to do whatever it takes?
Choosing not to think about your health can lead to serious problems, including a breast cancer diagnosis, whether you realize it or not. What you're doing, or not doing, may not be affecting you now but chances are it'll cost you later.
Don't wait until you're diagnosed to take action. Do it before it happens. What will you do to live a long, healthy life? Why do you want to? Start there. It might be just what you need to prompt you to take action.
It can take years for bad habits to catch up to you but eventually they will. Then you'll be wishing you'd made different choices years ago but it'll be too late. Address unhealthy behaviors now. Take your health seriously!
Be empowered! You have the ability to be and stay healthy if you're willing to do the work. What does the healthiest version of you look like? What do you need to do to get there?
Many health conditions, including breast cancer, are preventable if you are proactive.
The Latest Breast Cancer Statistics*
1 in 8 women will develop breast cancer

1 in 39 women with breast cancer will die from it

An estimated 290,00 women will be diagnosed with breast cancer in 2022

Approximately 43,000 women will die from breast cancer in 2022
Are you thinking about your actions and how they may be affecting your health? If not, start now! Your future self will thank you.
If you don't think about your health now you will most likely be forced to think about it later. I know because it happened to me. Now my life's focus is to stay cancer free. Every action comes with consequences. Commit to taking the right ones to support your health and well-being!
Start by assessing where you are now. Download and fill out my Wellness Assessment. Use it as a benchmark. Click the button below.
Track your activities and look at what you're actually doing every day. Then decide what changes you're going to make. Start slow, do a little every day, and be consistent.
Start making better choices today!
Would you like help getting started on your journey to optimal health? Schedule a free 30 minute wellness consult with me. Book one now!
*Information taken from cancer.org and breast cancer.org websites.
Love what you read here? Subscribe for updates.
Note: There may be affiliate links in this post. • I am not a doctor. All information is for educational use only and is not intended as a substitute for advice from your physician or other health care professional.