Jun 29, 2022 09:17 AM Central
Heidi VanZandt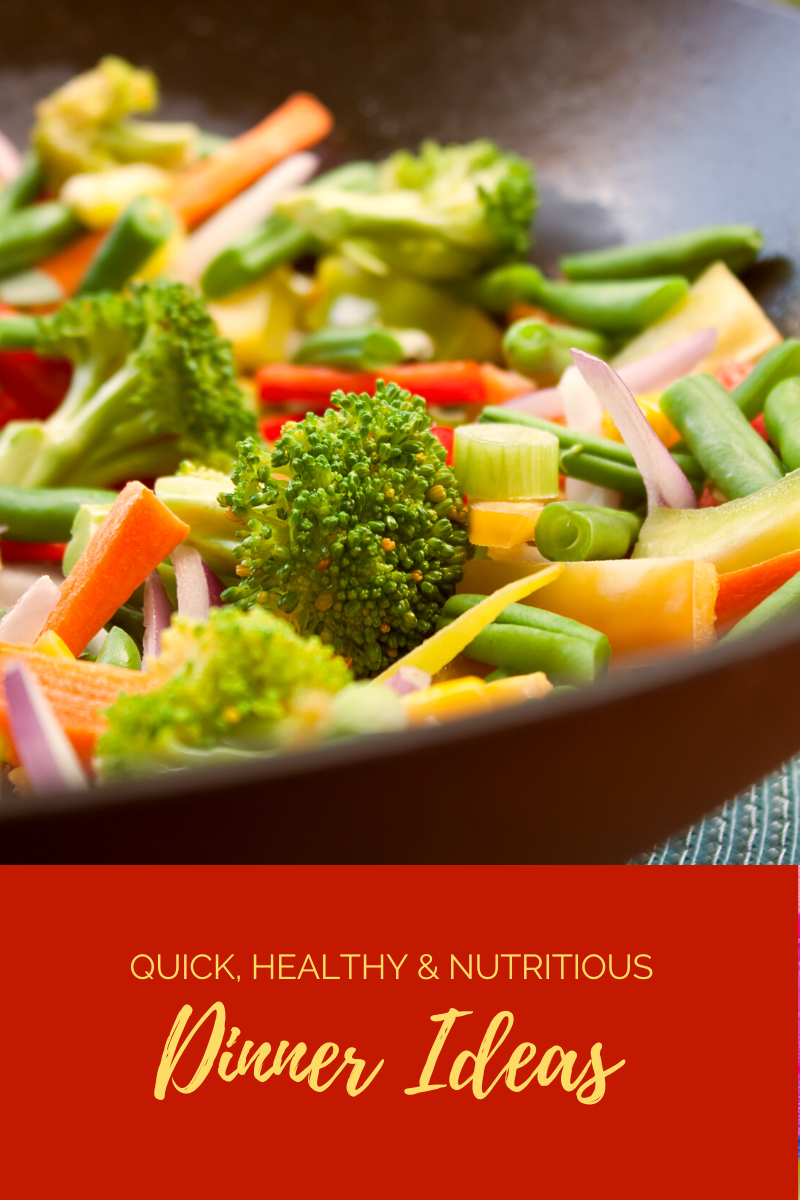 "The groundwork for all happiness is good health."
—
Leigh Hunt
Getting a healthy meal on the table can be a struggle especially when you're in a hurry and didn't plan ahead. Plus who wants to spend time in the kitchen in the Summer? Not me!
Instead of ordering takeout, stopping at a fast food restaurant or eating cereal for dinner, whip up a quick, nutritious dinner. It's totally possible if you have your refrigerator, freezer, and pantry well stocked. Once that's done it'll be easy!
To create a quick salad, start by purchasing pre-washed packages of greens like lettuce blends, slaw, or spinach. Choose toppings like cherry or grape tomatoes, pre-sliced mushrooms, shredded carrots, pre-sliced beets, quartered artichoke hearts, sliced water chestnuts, canned garbanzo or black beans, olives, hummus, avocado or guacamole, nuts, seeds, etc.
Better yet, buy fresh veggies at the local farmer's market and set aside some time to process them. If you do it all at once it'll take less time. Place cut veggies in containers in the fridge to grab when you need them.
You can add pretty much anything you want to a base of greens. What you choose to include will determine how filling your salad is so make sure you include protein such as legumes, seeds, or nuts. Consider 1-2TBSP of low sodium sauerkraut, ground flax seeds, hemp seeds, sunflower or pumpkin seeds, micro greens or sprouts.
Have a supply of frozen vegetable noodles like zucchini, carrots or butternut squash on hand. Top them with pasta sauce or frozen mixed vegetables with low sodium soy sauce and spices. Frozen mixed vegetables can also be used to make a simple stir fry. Serve it over a quick cooking grain like quinoa, a frozen riced vegetable, or fresh spiralized veggies.
Other quick, nutritious meals include grain bowls, burritos, wraps, low or sodium free soup, or pizza made on a frozen cauliflower crust.
The key is to have ingredients on hand so you don't have to think too much about what to make. Just pull items out of the freezer, refrigerator, and pantry, decide what combination you want, and in about 15 minutes, volé dinner.
Did you know that 7 out of the 10 leading causes of death in the United States are linked to nutrition? They include heart disease, cancer, lower respiratory disease, stroke, Alzheimer's disease, diabetes and kidney disease.
There is a direct link between what you eat and your health and well-being. That's why making good food choices, even when you're in a hurry, is so important. Eat for your health today and every day!
Do you want to make positive lifestyle changes but having a hard time doing it on your own?

If you'd like a Lifestyle Coach I'm here to help.

Schedule a free 30 minute wellness consult. Let's chat.
Love what you read here? Subscribe for updates.
Note: There may be affiliate links in this post. • I am not a doctor. All information is for educational use only and is not intended as a substitute for advice from your physician or other health care professional.