05/04/2022 08:00 AM Central
Heidi VanZandt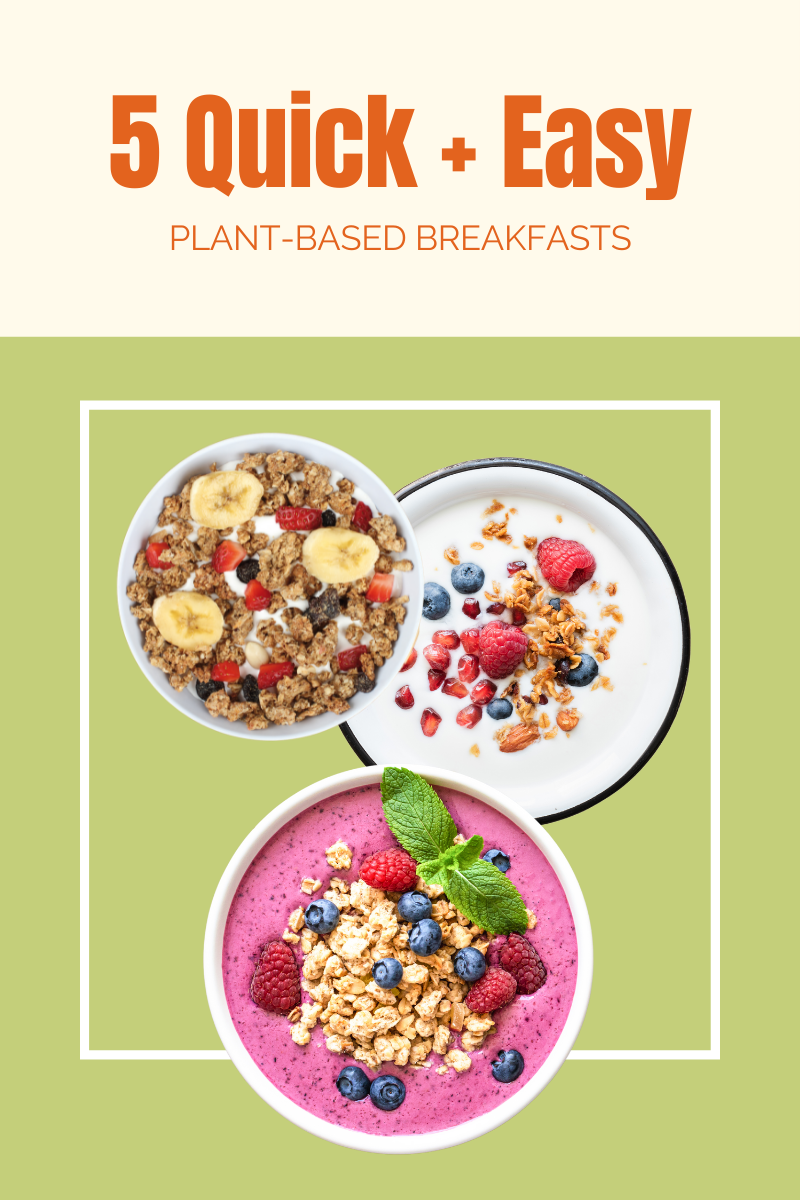 "What you do today can improve all your tomorrows." —
Ralph Marston
Mornings can be busy. Finding time for breakfast and eating something nutritious and not too heavy can be a challenge.
I've got 5 standbys I eat every week that are easy and don't require much time to make.
1 1/2c frozen fruit

4-6oz water or plant milk

1 small handful sprouts, micro greens, fresh spinach or kale
Place all ingredients in a blender and blend until smooth

Pour into bowl and add toppings of choice such as berries, 1/2 sliced banana, sunflower or pumpkin seeds, chopped nuts, unsweetened shredded coconut, hemp seeds, chia seeds, oats, granola, etc.
Purchase or make unsweetened coconut yogurt

Add berries or other fruit and a dash of cinnamon
Make your own mixture ahead with oats, dried fruit and nuts or purchase pre-made. Read the label to make sure there is no added sugar, sodium or other undesirable ingredient. Or just use oats.
Place 1/2c muesli or oats in a bowl.

Add 1/4-1/3c almond or other unsweetened plant milk to bowl

Add chopped nuts, dried fruit (unsulfurized and no sugar added), seeds, and chopped fresh fruit of your choice

Add a dash of cinnamon or nutmeg

Stir gently

Let sit for 15 minutes
I put it together before I get in the shower and when I'm finished it's all ready to go.
2cups unsweetened almond or coconut milk

1/2c chia seeds

Optional - add vanilla, maple syrup, honey, or cinnamon to taste
Mix well with whisk

Refrigerate overnight in an airtight container

Some chia seeds may settle to the bottom of the bowl. I stir it again a couple hours after initially making it.
To serve: Dish as much as you'd like into a bowl.
Add toppings of choice. Berries, banana or other fruit, sunflower or pumpkin seeds, chopped nuts, unsweetened shredded coconut, hemp seeds, chia seeds, oats, granola, etc.
Sprouted Buckwheat Cereal
This recipe requires a dehydrator. It takes time to prepare initially but when finished it's all ready to grab out of the cupboard.
Soak 2 cups raw buckwheat groats in a bowl with twice the volume of water for 15-30 minutes.

Drain, rinse and drain

Every morning and evening for 2 days repeat the draining, rinsing, and draining until the seeds begin to sprout and a small white tail emerges

Spread the sprouted seeds in a single layer on fine mesh screens placed on dehydrator trays, so they don't fall through

Place in dehydrator

Dehydrate at 105° for 12+ hours until they are dry and crunchy

Let cool and store in a glass jar
Serve with unsweetened plant milk
Top with berries, chopped fruit, chopped nuts, hemp seeds, cinnamon, etc
If you're trying to lose weight, hold off on the nuts and seeds. They are high in fat which can contribute to weight gain. Plus when you eat fat it makes you crave more of it. Save the nuts and seeds for dinner time.
To get my FREE eBook with all the recipes, click the button below.
Eating healthy doesn't have to be complicated, hard or time consuming. If preparing and eating nutritious meals is something you struggle with I can help. Click the button below to connect with me.
Love what you read here? Subscribe for updates.
Note: There may be affiliate links in this post. • I am not a doctor. All information is for educational use only and is not intended as a substitute for advice from your physician or other health care professional.