07/07/2021 08:00 AM Central
Heidi VanZandt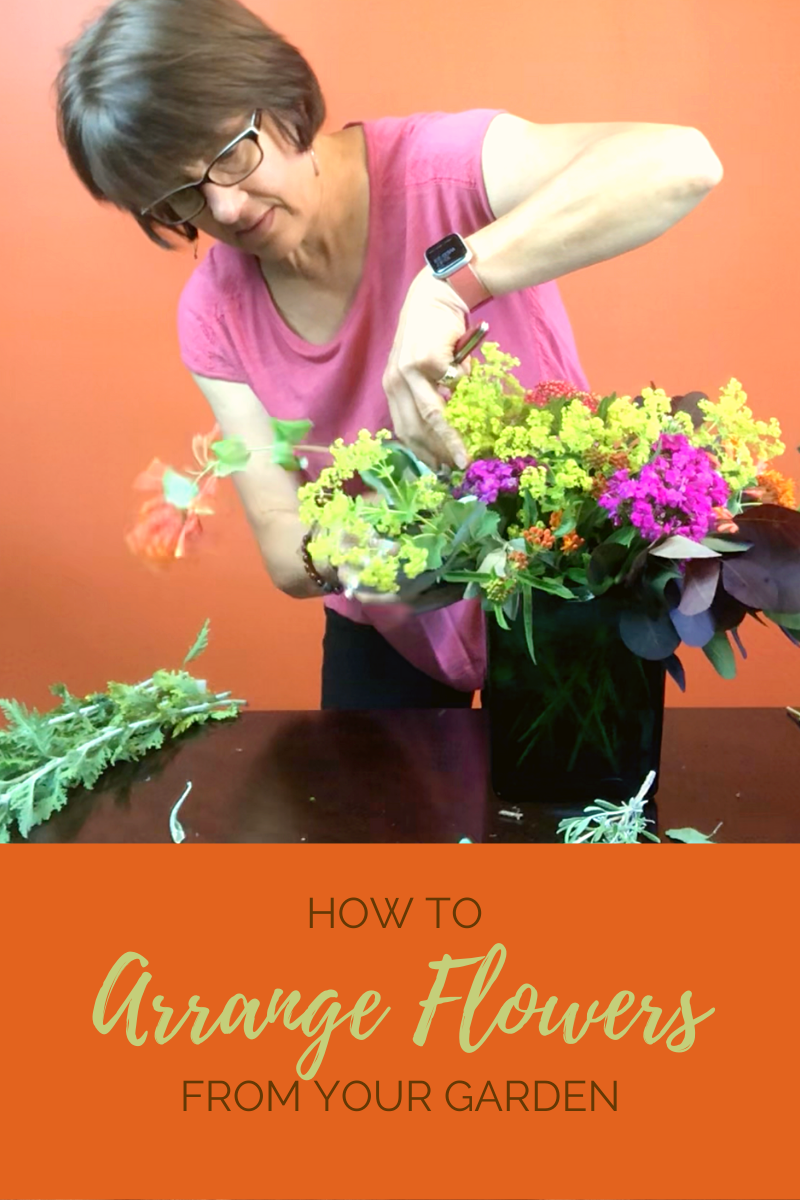 When flowers are plentiful in the garden why not cut some, bring them inside, and make an arrangement to decorate your home? Flowers have been proven to lift your spirits and have a positive effect on how you feel.

Scents can influence your mood and emotions. Select flowers with fragrance if you have any. Lavender is a great choice as it's scent promotes calm and relaxation. It dries really well so you can cut and save it to use after the season has passed.

If you don't have scented flowers tuck a pine cone, acorn, wooden bead or other element with absorption capabilities and add a few drops of essential oil to it. That way you can choose a fragrance for a specific purpose.

Colors can also affect how you feel. Yellow is uplifting and joyful, blues and purples are calming, green is grounding, red and orange are energizing. Be aware of that as you're choosing flowers for your arrangement. Depending on what's available you may not have the opportunity to choose specific colors. That's okay. Enjoy the beauty of the flowers you have!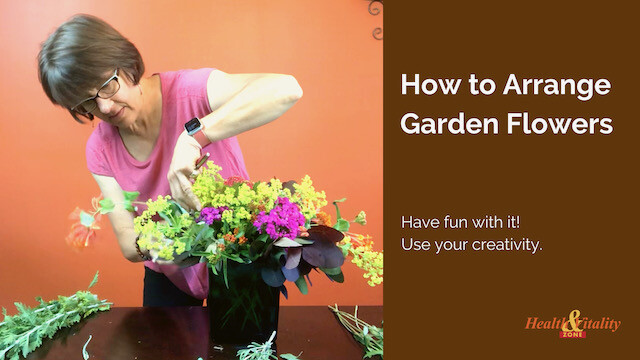 Click the photo at right to view a step by step demonstration of the arrangement process.

Before heading out to the garden, decide whether to choose a vase first and cut the appropriate amount of flowers to fill it or cut the flowers first and then pick the correct size vase. Either way is fine. Cut the stems as long as possible, you can always shorten them but you can't make them longer. Select flowers in a variety of sizes and textures for more visual appeal.
Supplies
Vase

Cold water

Sharp knife or pruners

Flowers

Foliage

Fill vase with cold water. This helps slow down the growth of bacteria which will shorten the life span of the flowers.

Sort flowers and foliage by variety on your work surface.

Start with foliage. Cut and strip leaves that will fall below the surface of the water before placing in vase. Criss cross stems to form a grid which will help hold subsequent stems.

After foliage has been inserted pick one flower type at a time and place in the vase.

Group flowers for greater visual impact or spread them evenly throughout the arrangement.

Let some longer stems extend out for a more organic look.
Change the water every couple of days. Pour out old water and replace with cold water.

Gently pull arrangement up out of vase with one or two hands and give all stems a nice clean cut every 2-3 days.

Some flowers will last longer than others. Pull flowers out as they die. If the stems are intertwined with others, use a pair of scissors and cut them out.

Warmer home temperatures will result in a shorter life span and cooler temperatures in a longer one.

Do not place in direct sun or near any heat source.

Enjoy whatever flowers you have at the present moment. If you don't think you have enough for an arrangement supplement with flowers from your local florist or farmer's market. Have fun with it!


Looking for natural ways to support your physical and emotional well-being? Come to the Flourish Women's Wellness Retreat on Saturday, August 7 from 9am-3pm at Maple Ridge Center, East Rd, Lowville, NY. Register today.

You'll experience meditation, tai chi and qi gong, color/floral/scent exploration, women's fitness, healthy cooking, and aroma freedom. Plus learn about the benefits of massage and infrared sauna.

For more info and to register click the button below.

Love what you read here? Subscribe for updates.
Note: There may be affiliate links in this post. • I am not a doctor. All information is for educational use only and is not intended as a substitute for advice from your physician or other health care professional.