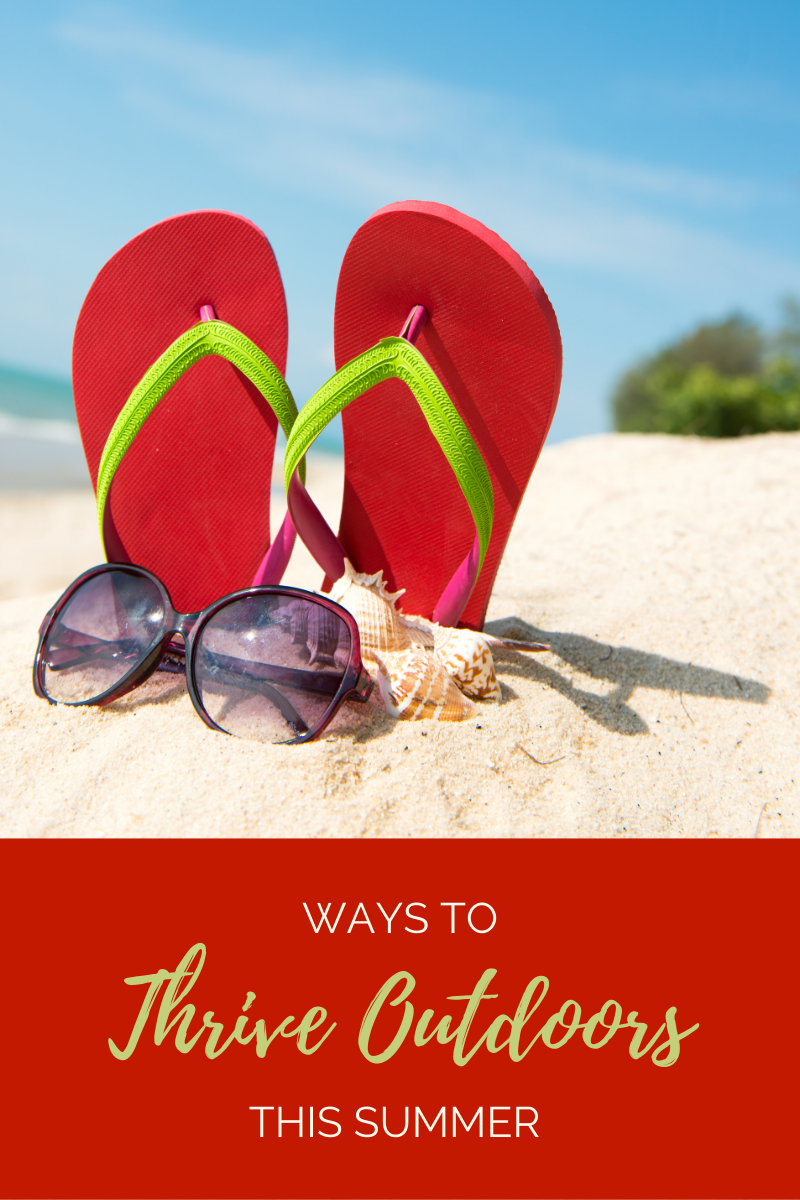 Summer is almost here. Yippee! Many people look forward to it especially "up North" as we say around here. It does come with it's own challenges so it's a good idea to be prepared.

Soak in the summer sunshine while you spend time in the garden, at the pool or the lake, hiking, or just enjoying a walk through the neighborhood. Exposure to sunlight is good for the soul and your health!

When your skin is exposed to sunlight, it makes Vitamin D. Vitamin D plays an important role in your immune system function and bone health. It is hugely beneficial! However, overexposure to the sun can lead to burned skin, wrinkles, eye injuries, and even skin cancer.

It's important to protect your skin when you're outdoors. To do that, use sunscreen to block out UVA and UVB light waves. Be sure to choose a brand of sunscreen without any toxic chemicals such as oxybenzone or retinol. Instead look for a mineral sunscreen.

I use a natural, broad-spectrum sunscreen that is chemical-free, making it a healthy alternative for adults and children. It's made with naturally derived plant-based ingredients.

If you happen to get too much sun, whip up this after sun spray. It'll provide temporary relief to overexposed skin.
2 TBSP pure aloe vera gel

10 drops Lavender essential oil

10 drops Peppermint essential oil

Fill with witch hazel

Add all ingredients to a 4 oz. glass spray bottle. Shake well and apply generously to skin that needs cooling. Re-apply as needed.

Nothing is more annoying than pesky bugs that buzz around your head when you're outside. Then they bite, leaving red bumps that itch for days. The best thing to do is apply insect repellent before going outside.

However, many insect repellents are formulated with DEET, parabens, phthalates, petrochemicals, animal-derived ingredients, synthetic preservatives, synthetic fragrances, and synthetic colorants. When absorbed through the skin or inhaled, these ingredients can cause allergic skin reactions, eye irritation, immune system disruption and other adverse effects on your health over time.

Instead search for a naturally derived plant-based insect repellent. They do exist! Or make your own outdoor spray. I do. Try this recipe:

20 drops Thieves essential oil

20 drops Lemon

essential oil

20 drops Rosemary

essential oil

20 drops Citronella

essential oil

Equal parts witch hazel and distilled water to fill

Mix ingredients in a 4 oz. glass spray bottle. Shake before each use.

There are dozens of products to choose from to make the time you spend outside more enjoyable but not all of them have your health and safety in mind.

Choose a brand that formulates its products with plant-derived ingredients. Not sure where to find one or looking for a recommendation, contact me.

Love what you read here? Subscribe for updates.
Note: There may be affiliate links in this post. • I am not a doctor. All information is for educational use only and is not intended as a substitute for advice from your physician or other health care professional.