01/06/2021 08:00 AM Central
Heidi VanZandt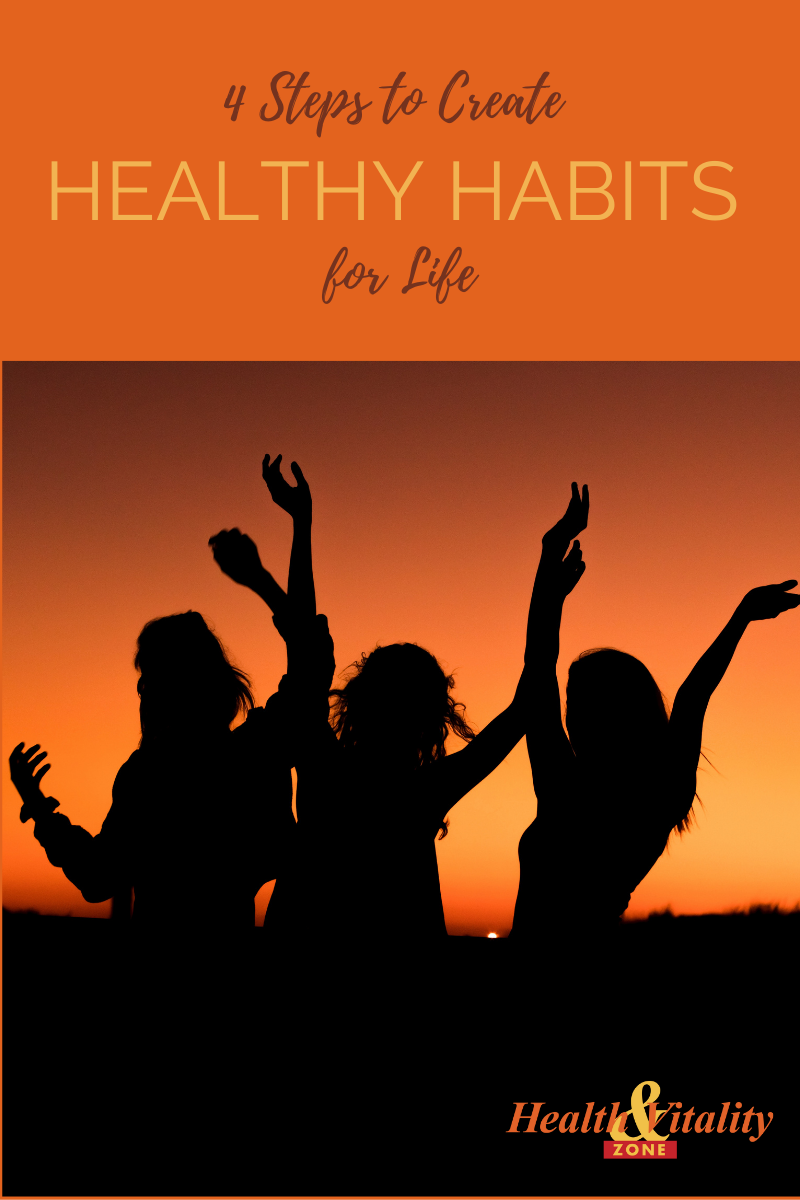 It doesn't matter your age, it's never too late to create new habits to support your health and well-being. You can start anytime too! The decisions you make each and every day have an impact on how you feel physically and emotionally. You can choose whether to have good, supportive behaviors or ones that self sabotage.

Creating lasting change can be difficult. Failure can be a result of not having a plan or giving up before you reach the goal. Good intentions are not enough to bring about success.

What can you do differently to change behaviors and make them last? Look at where you are, set realistic goals, and slowly and consistently work towards them. Be and stay committed. Begin to create healthy habits with the following 4 steps.

Start With Your Mindset
The first thing you want to do is work on your mindset. Once that changes so will everything else. Your mind is a VERY powerful thing. To adopt new habits and create lasting change in your life you must start with your mind.
Take some time for self reflection through journaling, meditation, or other mind/body connection activities like yoga. It can help you discover your goals and shift your mindset in a positive and beneficial way.
Identify Areas That Need Attention
Physical activity

Healthy eating

Personal development

Self care

Relationships

Career/Life purpose
Keys to Forming New Habits
Creating a new habit does not happen quickly or easily.

Behavior does become automatic over time with enough repetition. You will be more successful if you take small incremental steps every day towards your goal. The key is to start slow and be consistent.

Become more mindful of the decisions you make every day and how they impact your health in order to make simple behavior modifications.

Remember and reflect on your why. Why do you want to be healthier in the first place?
Be Accountable to Someone
You have a much greater likelihood of reaching a goal if you commit to someone. Regular check-ins with someone can increase your success rate. Find an accountability partner who shares similar goals with you. If being more physically active is your goal join my Dedicated & Determined Fitness Group on Facebook. Request to join HERE.
If you missed the Healthy Habits For Life program you can access the replay HERE. It includes additional tips on how to start creating behaviors to support your health and well-being. It's a great place start!
When you're ready for a deeper dive join my 28 to Elevate program. You can choose the self guided format or live (online) version. It's a 28 day step-by-step guide to elevate your mind and body. Click the button below to learn more.
Make sure you check out the 5 Steps to Healthier Living Guide for some quick and easy tips to get you started in the New Year. Click the button below.
Love what you read here? Subscribe for updates.
Note: There may be affiliate links in this post. • I am not a doctor. All information is for educational use only and is not intended as a substitute for advice from your physician or other health care professional.