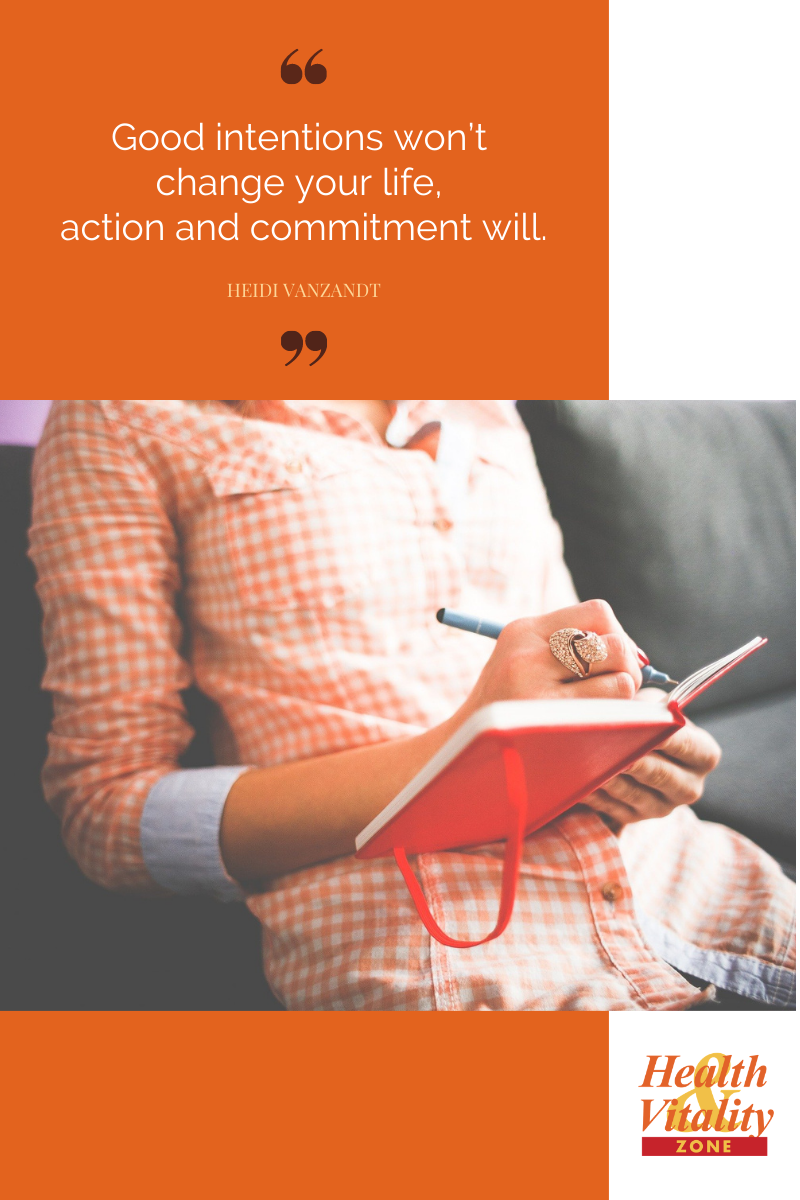 Action and Commitment Will
You've heard about it every year since you've been an adult, leaving the old year behind and planning a fresh start in the new year. It sounds good in theory but so often that's not how it works. Call them New Year's resolutions or simply the desire to create change in your life.

Here's the thing. It IS possible to implement long-lasting behavioral changes and the beginning of a new year is the perfect time to do it! Really any time is a good time so if your reading this at a later date don't wait to begin. The only thing that's necessary to create change is that you take action and follow through on your plans.

Sounds simple right? If you've tried before and haven't succeeded then you know that's far from the truth. Good intentions won't change your life! If you've experienced a life altering event, like I did with breast cancer, it can be easier to make lasting changes and to stay committed if your health depends on it.
What can you do to change your good intentions into new habits that last a lifetime?
Set realistic, measurable goals

Write down your intentions and review them several times a day

Get an accountability partner

Have a strong reason for why you want to succeed

Visualize what your life will be like when this behavior has become second nature

Every day track your actions related to the change you want to make
Here are some of my own experiences:
In May 2017 I adopted a plant-based diet as a result of a lecture I attended on diet and breast cancer given by Thomas Campbell, MD. I continues to eat that way still.

I've participated in "challenges" by myself and in groups. I gave up coffee for a month which made me realize I don't really need it. I wanted to walk or run a mile for 30 days straight and got about 30 people to join me. Having to report to the group helped keep me accountable. When the 30 days was over I didn't really want to stop.

For over a year I wrote down in my weekly planner that I was going to meditate for at least 5 minutes every day. It didn't happen! Most weeks I got 5 days in but not the weekends which is crazy as there is more down time then. But those days are less structured so it was harder for me to get it done. On December 1 I decided this is it, I'm going to commit to do it, no excuses. Guess what? It's working!
If something is important enough to you and you really want whatever the results are you CAN absolutely do it! Just get started. Every day you do the practice is one day closer to creating a habit and the outcome your desire. Have a slip up? So! Get back at it the next day. Don't let one failure make you lose focus and sabotage your plan.

On January 4 I'm launching a Create Healthy Habits class. It's got simple tips on how to adopt habits that are sustainable and can help you feel better. And, it's FREE. When you complete that we can take a deeper dive! More info coming soon!
When you've got a few minutes check out my 5 Steps to Healthier Living Guide for some quick and easy tips. Click the button below.
Love what you read here? Subscribe for updates.
Note: There may be affiliate links in this post. • I am not a doctor. All information is for educational use only and is not intended as a substitute for advice from your physician or other health care professional.