12/09/2020 08:00 AM Central
Heidi VanZandt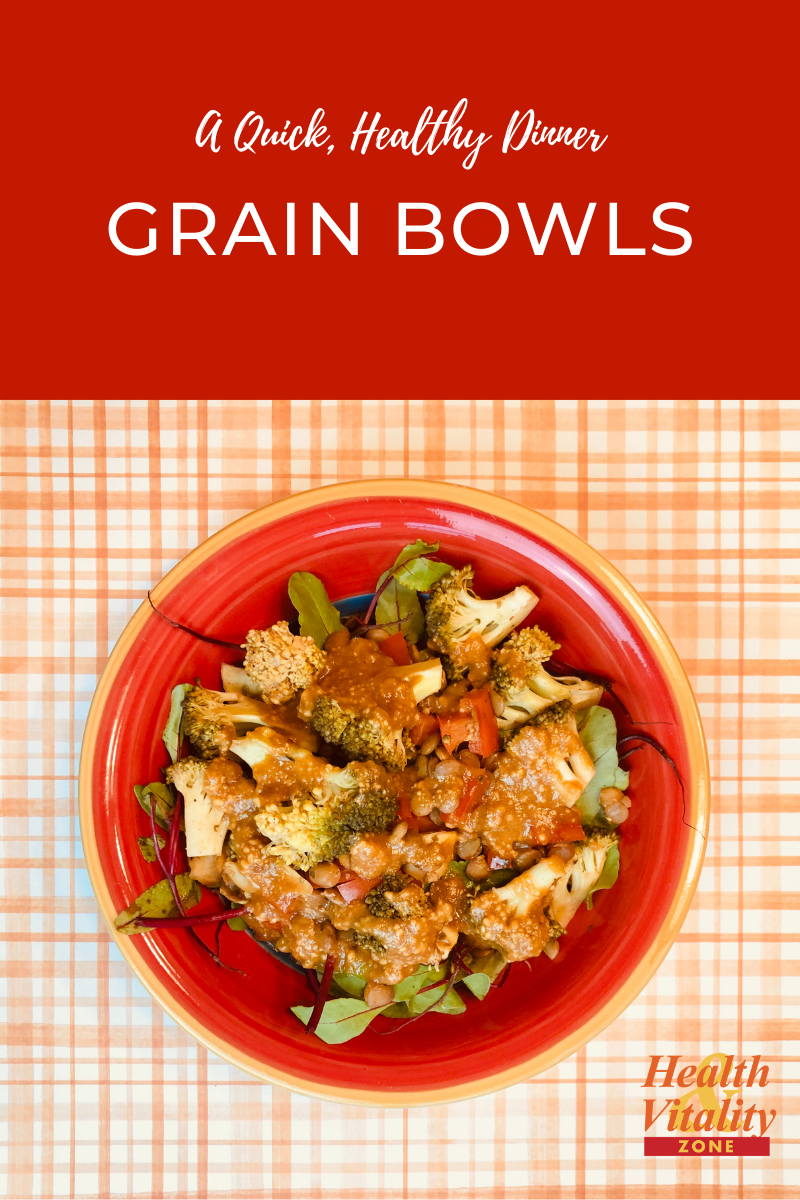 One of my go-to meals when in a hurry is a Grain Bowl. They're super easy to make, allow for creativity and are very nutritious.

To create a Grain Bowl you'll need:
A grain (pretty obvious I know)

Fresh greens

Vegetables

Sauce
Let's dive into the details.

Purchase whole, unrefined grains. That means no white rice, quinoa, or etc. Instead buy brown, red, black, or wild rice, red, black or tri-colored quinoa, farro, sprouted buckwheat, or other grain. You'll be surprised what you can find at your local market, health food store, and online. I'm an advocate for shopping local but occasionally I buy grains at nuts.com.
Riced vegetables work great too! As do potatoes, sweet potatoes, and pasta. You can find riced vegetables in the frozen section. Typical varieties are broccoli, cauliflower and squash.

To save time, cook grains ahead and make a large amount. That way you can freeze some for future use. Use an Instant Pot to cook grains. It takes less time and it's totally unattended. To see the one I use click
here
.

Now come the greens. Try spinach, kale, beet greens, arugula, or any other green you like.

Did you know that kale needs to be massaged? Yup. Cut it up into bite size pieces and place in a bowl. Take your hands and gently massage the kale until it breaks down and is less stiff. You can put a drop of lemon juice or olive oil on your hands before massaging but it's not necessary.
Vegetables are next. Sauté or roast a variety of vegetables of your choice. If you're in a hurry grab a bag of frozen mixed veggies. For better health use low/no sodium vegetable broth for sautéing. You can even use vegetable broth as a replacement for oil for roasted veggies. I typically use a little of each. Make sure you use good quality olive oil and add lots of spices.

Beans of some kind are a great addition too. If you don't eat meat or want to cut down on consumption beans are a healthy source of protein. Whenever possible purchase and rehydrate dry beans. They are the healthiest with no added ingredients. Again, I use the Instant Pot for this, less time and unattended.

When purchasing canned beans look for no sodium or read labels to find the ones with the least sodium. Don't be fooled by labels that say "Low Sodium" many times they have more than other brands without the deceptive label.

You'll also want some type of sauce. Options include salsa, soy sauce, liquid aminos, peanut sauce, pesto, salad dressing, hummus, and guacamole.

To assemble put the grain in the bottom of the bowl, add greens, then vegetables, and top off with sauce.

You can also add toppings like seeds, nuts, and fruit. It's really up to you. Grain bowls are very similar to green salad in that you can add anything you choose. They can be a great way to use up leftovers too. Some of the best ones are a conglomeration of whatever happens to be in the 'frig from other meals you made during the week.

One of my favorites is a Mexican Grain Bowl. I use rice, romaine lettuce, refried beans, tomato, onion, jalapeño peppers, black olives, and salsa. It's yummy!

Get creative and experiment with different ingredients. I'd love to hear if you try this healthy dinner idea and what you included in yours.
If you've got a few minutes check out my 5 Steps to Healthier Living Guide for some quick and easy tips. Click the button below.
Working on upping your fitness game? Join my private group of Dedicated & Determined Fitness Challengers. It's a great place for support and accountability. Click the button.
Love what you read here? Subscribe for updates.
Note: There may be affiliate links in this post. • I am not a doctor. All information is for educational use only and is not intended as a substitute for advice from your physician or other health care professional.