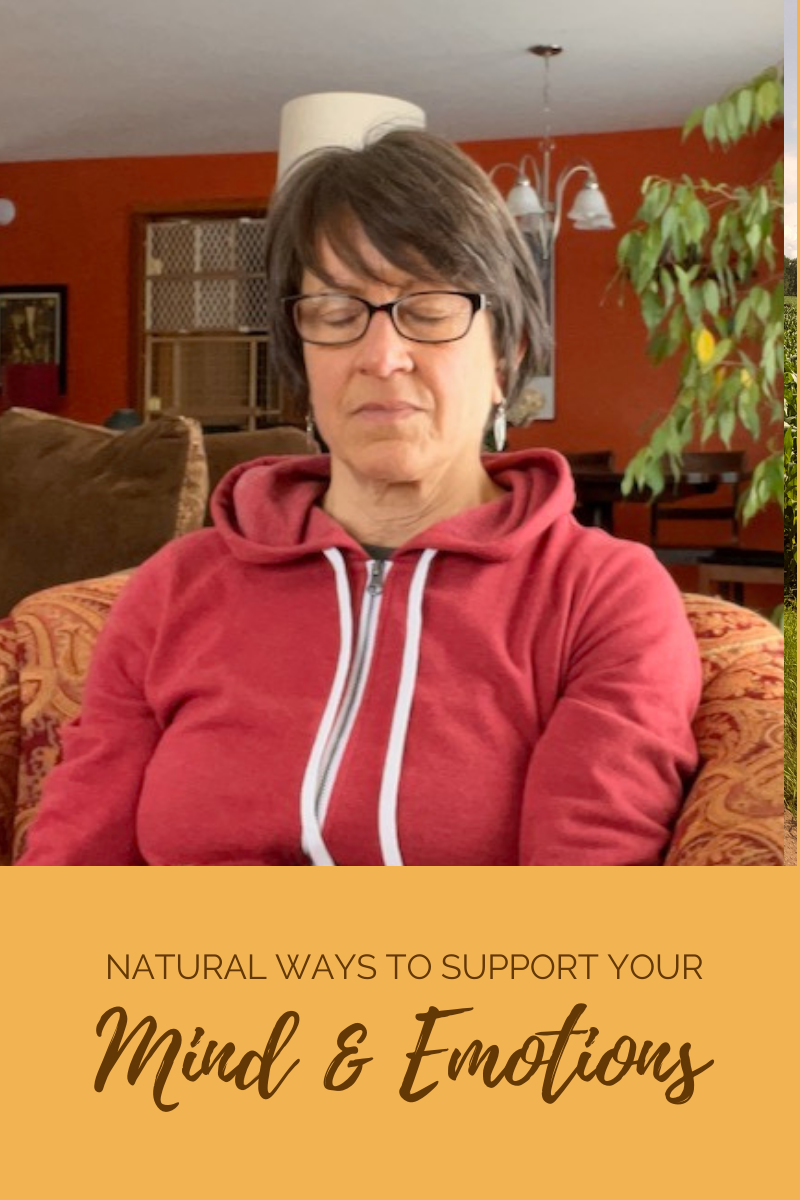 "The self is not something ready-made, but something in continuous formation through choice of action."
— John Dewey


When it comes to health it's pretty typical to think only of your physical body but being aware of and managing your mind and emotions is a critical component of your overall wellness.
As you move through each day be present in each moment and take notice of how situations and circumstances affect you. Then be intentional in how you react to them. You get to choose how they impact your thoughts and emotions. Have tools ready and available to help you support your mind.
Ways to Support Your Mind & Emotions
Meditation is a great way to clear and reset your mind. If you're just getting started, try guided meditation. It may work the best. Use an app such as Calm or Head Space or watch a You Tube video. There are many available. When you first begin it may be hard to sit still and quiet your mind but just like anything else, the more you meditate the easier it will become.
Relieve stress and anxiety. Stress is natural and impossible to eliminate but an overabundance can negatively affect your health. Identify what the stressors are in your live and find natural ways to manage or reduce them.
Practice deep breathing to create a sense of calm. This technique is great because you can use it anywhere. Breath in through your nose for 4 seconds. Hold the breath for 4 seconds. Exhale through the nose for 4 seconds.
Think about and acknowledge all the things you are grateful for. Keep a journal and write them down every day, say them aloud or run through them in your mind. Recognizing all you have can have very powerful results.
Make positive affirmations out loud in front of the mirror every day. Read self development books. Listen to podcasts. Practice visualization of goals and dreams as though they have already happened. High 5 yourself every time you pass a mirror. All these can really impact how you feel about yourself.
Make a concerted effort to do things you enjoy. It is super important for your state of mind and physical health. Plan and schedule fun activities on a weekly, monthly and yearly basis. Fun doesn't have to be elaborate. It can be simple things.
Do you suffer from insomnia? It's very common. As we age it seems harder and harder to get the quality and quantity of sleep necessary. To maintain a healthy body and mind and promote a state of overall wellness, it is recommended that adults receive 7-8 hours of sleep a night. Get my guide, 3 Ways to Get Better Sleep Tonight, HERE.
In an episode of his podcast, Dr Michel Greger shared that, Good Food = Good Mood and a Good Mood = Good Food. Research shows that consuming 7-8 servings of fruits and vegetables a day will put you in a better mood. And, the effects that result last into the next day. Plus, when you're in a good mood you are more likely to eat a healthier diet.
Essential oils are distilled from the leaves, stems, flowers, and roots of plants. They are the plant's natural defense and protection mechanisms. When distilled and bottled, they are powerful tools to support health and wellness. They provide natural scents that can affect your mood and emotions. To learn more about them take my Intro to Essential Oils email course. It's free. Click the button below to get started.
Love what you read here? Subscribe for updates.
Note: There may be affiliate links in this post. • I am not a doctor. All information is for educational use only and is not intended as a substitute for advice from your physician or other health care professional.